Sunday, March 27, 2011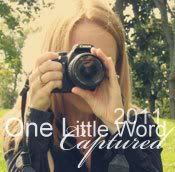 This update brings us to week 13 of One Little Word which means, scarily enough, that this project - and 2011 - is one-quarter the way through already. How quickly that has passed! To be completely honest, I have been quite delinquent in the record-keeping part of this project. (I'm not sure that I've even finished the January assignment yet and here comes the April assignment right around the corner! Whoops!) Thankfully,
Jill Conyers' photo challenge
has kept my word present for me every week in my mind, if not on paper.
For last week (since I skipped a post), I thought I'd share some good news. Through my photography class at the
Visual Arts Center
, I am part of a group exhibition at the
Paper Mill Playhouse
, a regional theater, which is being shown alongside the production of
A Funny Thing Happened on the Way to the Forum
. On Sunday of last week, I and my fellow classmates, were able to attend a cocktail party to celebrate the opening of the show and of our exhibit. The Mr. suggested we take a photo of me with my work but
you know how I am about photographs
. After some cajoling, he managed to snap this shot with his phone. Now, after the fact, I'm glad he did so that I'll have a record of the first ever public appearance of my work.
And as for this week, progress came in the brief appearance of warmer weather - just warm enough to take the kids to the park and revel in the sunshine. This was, cruelly, chased away by two days of slushy, wet snow but at least we got a taste of what's to come. This shot is of my son on one of the bridges of the play structure. I'll think we're all looking forward for more days like that one.
If you're in on this challenge, too, hope you're keeping up better than I am! Are are you delinquent, too? See you next week!
2 Comments
| |
Email Article
|
Permalink
Photography
|
tagged
Mae,
One Little Word,
captured,
progress